RAW AIR 2021/22 Edition shorter than normal
19. apr 2021
RAW AIR 2021/22 will be held in Lillehammer and Oslo. The Tournament starts with qualification in Lillehammer on March the 2nd. The final will be in Holmenkollen March 6th.
During the calendar meeting in FIS earlier in April, it was decided that the super final in Vikersund won´t be included as normal due to The World Ski Flying Championship a few days later.
The 2021/22 edition of the RAW AIR tournament will be different, but the plan is to include both the New Granåsen hill and Vikersund again from 2022/23.
- In Vikersund we are sorry that women won´t be able to jump in ski flying in Vikersund already in 2022. It is also a surprise that Vikersund won´t host the super final, which has been included in the plans since September 2020. Anyway, we will do everything possible to create a fantastic World Ski Flying Championship as one of the biggest events for the new season together with the Winter Olympics, Per Bergerud says.
He is general secretary in LOC Vikersund.
The program for RAW AIR 2022:
March 2nd: Qualification men and women in Lillehammer
March 3rd: Individual races men and women in Lillehammer
March 4th: Qualification men and women in Holmenkollen
March 5th: Individual races men and women in Holmenkollen
March 6th: Qualification and individual races (finals) men and women in Holmenkollen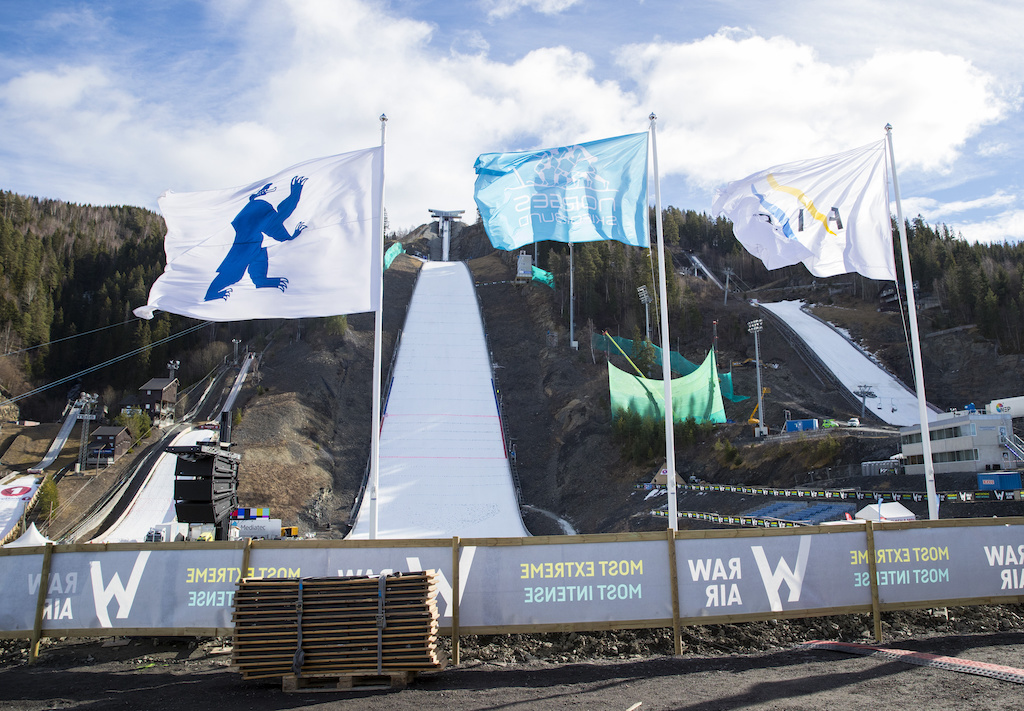 RAW AIR - Cancelled
8. mar 2021
Raw Air 2021, which was due to be held in mid-March, is among the cancelled world cup races following government regulations regarding entry bans. It is thus not possible for foreign athletes to come here to compete.
There is a deadline of 30 days facing FIS to confirm events, which had already expired at the time. It was therefore not possible to wait any longer, Raw Air had to be cancelled.
2020: CONGRATULATIONS TO LUNDBY AND STOCH FOR WINNING RAW AIR 2020
18. des 2020
Maren Lundby (Norway) and Kamil Stoch (Poland) was leading the overall standings after day 1 in Trondheim. They will therefore both also be the overall winners of RAW AIR 2020.
Stoch won ahead of Ryoyu Kobayashi (Japan) and Marius Lindvik (Norway). Lundby won ahead of compatriot Silje Opseth and Austrian Eva Pinkelnig.
– Due to the situation caused by the Corona virus, it was not possible to finish, RAW AIR 2020. There is anyway no doubt that Maren Lundby and Kamil Stoch will be worthy winners of the tournament this year, says Race Director in The Norwegian Ski Federation, Terje Lund.
Maren Lundby also won the RAW AIR tournament last year. Photo: Geir Olsen / NTB
Kamil Stoch won the RAW AIR tournament for the second time. Foto: Geir Olsen / NTB
IT'S RAW, DRAMATIC AND BASED ON NORWEGIAN NATURE AND HISTORY.
18. des 2020
Hadeland Glassworks is one of Norways oldest manufatures. The production of the beautiful glass is still solemnly handmade by competent and talented craftsmen, and they all have a long and detailed background. This year history and great traditions meets the new and exciting, when Handeland Glassworks team up with the RAW AIR team. They have been one of our most important partners in creating the worlds most extreme ski jumping tournament, and today we finally got to launch this partnership. We were also so lucky that we got to see professional glassblowers in action while the designer explained the entire process in detail. And a look at the very first trophy.
The process of creating the trophy was a close cooperation with designer Maud Gjeruldsen Bugge, so that we would able to capture the unique and raw qualities we were looking for. The design she created has a character that reflects Raw Air´s core values perfectly. The trophy is based on Norwegian values, as well as the traditions that comes with the good Norwegian craftsmanship. It weighs nearly 10 kg. and measures approximately 70 cm. diameter. It`s raw, sensational and beautiful.
RAW AIR Trofé from Raw Air Tournament on Vimeo.
RAW AIR GOES GREEN - WILL USE TRAINS DURING TOURNAMENT
17. des 2019
The most intensive and extreme ski jumping tournament will work together with Vy to transport jumpers, staff and media.
Trains will be used when we go from Lillehammer to Trondheim and from Oslo Airport Gardermoen to Drammen (Vikersund). Vy will also have busses available for the other travel arrangements during RAW AIR 2020.
– We are proud that we can present Vy Trains and Vy Busses as our partner of transportation during RAW AIR in March. This is a green step for our ski jumping tournament, which will make us more sustainable for the future. At the same time the jumpers will get even higher comfort when travelling around in Norway, Marita Hakestad Andresen in The Norwegian Ski Federation says.
Due to lack of time and the security of the jumpers, a plane will bring the men from Trondheim to Oslo Gardermoen before the super final in Vikersund, but they will be met by trains at the airport before going to their hotel in Drammen.
– Climate changes are an extremely important issue for ski jumping and other winter sports. We sadly more often see lack of snow when we are travelling around in the world. We wishes to jump on snow, and we are also depending on quiet wind. I´m proud that Norway can be in front when green steps are being done in ski jumping, Norwegian head coach Alexander Stöckl says.
Marius Lindvik, second in the 4-hills Tournement, and Daniel-André Tande, former winner of competition in Holmenkollen during RAW AIR, tested the Vy trains in Oslo this week.
– We are all aware of how the nature around us is vulnerable. It feels good to be among those whose try to go in front and take some small, but important green steps. Using trains will lift the RAW AIR to another level, and we are both happy to contribute to such an important thing. See you on the train in March, Marius and Daniel says.
RAW AIR starts March 6th, with the ladies´ first competition the next day.
Marius Lindvik tested the trains in Oslo this week. Foto: Terje Bendiksby / NTB scanpix